Posjetite i uclanite se na forum-visit and join our message board   
http://bihonline.org/index.php
WHO ARE SO CALLED BOSNIAN SERBS AND BOSNIAN CROATS
The people of Bosnia are traditionally called Bosnians.
For reasons having to do with recent history (and as much with 20th-century ideologies as with traditional religious allegiances), Bosnians whose ancestors were of the Catholic faith are now identified as Bosnian Croats (17%), while those of Eastern Orthodox background are now identified as Bosnian Serbs (31%). The largest group of the Bosnian population, however, are the Muslim Slavs (44% in the 1991 census), descendants of Christian Bosnians who accepted Islam some 500 years ago.
A quote from a book "Putnams Home Cyclopedia" p116 written in 1851

As we can clearly see the orthodox population at the time this book was written considered themselves to be Bosniaks, not Serbs, Serbian propaganda machinery was not as effective back than.
A New and Comprehensive Gazetteer By George Newenham Wright p.94

"Bosnians are almost independent"
, unlike Servians (in mid 19 century Serbs were called Servians and their country was named Servia, it`s not hard to guess what those names mean now is it) who took great pride in serving their new masters the Ottoman Turks.
Europe past and present geography manual 1850 p 633

Greek Christians=Bosniaks , no Serbs in sight, but Garasanin and his propagandists were about to change that later on.
The Edinburgh GazetteerOr Geographical Dictionary p 564 written in 1822

"The inhabitants (Bosniacks) are of Sclavonian origin and use the purest dialect of the Sclavonian language"
, don`t tell this to Servs and Croasians. LOOL
History of the Greek revolution byThomas Gordon p.19

Bosniaks of three faiths. 
McCullohs universal Gazetteer

The Penny Cyclopaedia of the Society for the Difussion of Useful Knowledge written in 1836
Newer books: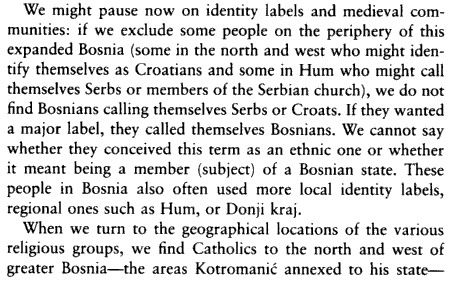 The Muslims of Bosnia-Herzegovina by Mark Pinson, Roy P. Mottahedeh page 8

John B.Alckock-Explaining Yugoslavia pages 318-319

http://i407.photobucket.com/albums/pp159/petrich/318-319identities.jpg

Croat like Serb is a construction which only acquires anything like its present form in the late 19 century 
Balkan at the crossroads p.2 Click me
The Ottoman succeeded in winning the loyalti of Bosnian peasant uprising against Hungary. Bosnia was subsequently annexed to the Ottoman empire, and most of the bogomils converted to Islam, those Bosnians who remained Catholic became ethnic Croats, those who remained Orthodox identified as Serbs.  
Bosnia and Herzegovina: a tradition betrayed by John V.A Fine and Robert J. Donia Click me
A Bosnian`s identity as a  Bosnian goes back many centuries whereas the classification of any Christian Bosnian as a  Serb or a Croats  goes back barely a century.
A quote from Noel Malcolm`s book Bosnia: a short history p.10
As for the question of whether the inhabitants of Bosnia were really Croat or really Serb in 1180, it cannot be answered, for two reasons: first, because we lack evidence, and secondly, because the question lacks meaning. We can say that the majority of the Bosnian territory (in 1180) was probably occupied by Croats - or at least, by Slavs under Croat rule - in the seventh century; but that is a tribal label which has little or no meaning five centuries later. The Bosnians were generally closer to the Croats in their religious and political history; but to apply the modern notion of Croat identity (something constructed in recent centuries out of religion, history, and language) to anyone in this period would be an anachronism. All that one can sensibly say about the ethnic identity of the Bosnians is this: they were the Slavs who lived in Bosnia.
But tell that to the Asiatic barbarians.
Bosnia a cultural history written by a Croat historian Ivan Lovrenovic p 93 Bravo Ivan
People called themselves Bosnjani in national term.

Lovrenovic argues that the term 'Bosnian Croat' dates only from the 19th century, and thus belongs among the phenomena of the modern era in Bosnia, above all the destruction of the Ottoman Empire and the great changes that it wrought in the region. While agreeing with Bosnian historian Srecko Džaja's thesis that Bosnia's Catholics had for centuries felt a kinship to the Catholics of Western Europe, he believes that 'Croatization' is a modern phenomenon, inseparable from the 19th-century ideology of bringing all Croats into one state, from political events following Austria's annexation of Bosnia, and from the concept of 'Catholic Croatian national sentiment' introduced by the church hierarchy. "Before the modern political use of "Croat" as the name of a nation near the end of the 19th century,' Lovrenovic writes, '… Bosnian Catholics with great pride considered Bosnia alone as their country and homeland…' Nearly 150 years of forgetting their Bosnian [pre-Catholic] roots produced the 'self-ignorance' of today's Bosnian Croats…

H.P Liotta dismemberng a state  Click me
Yugoslavia as history by John R. Lampe p 23 Click me
More significantly, to the considerable degree that religious identity determined ethnic identity in the 15 and 16 centuries,the extent of the conversions calls into question the consciously Croat or Serb identity of much of the Bosnian population. 
Viktor Meier-Yugoslavia a history of its demise 200-201 Hit me
The History of the Balkan Peninsula: From the Earliest Times to the Present (Eastern Europe Collection) by Ferdinand Schevill 202-203 Link
The history of Bosnia From the middle ages to the present day Link 1  Link 2
Tom Clancy: Bosnia a travel guide p19 click me baby one more time
Noel Malcolm: Bosnia-a short history p10-11 You know the drill 
"It occurs in the politico-geographical handbook written in 958 by the Byzantine Emperor Constantine Porphyrogenetus.In the section of his handbook devoted to the Serbian prince`s lands he wrote:'IN BAPTISED SERBIA ARE THE INHABITED CITIES OF DESTIKON [etc.]....AND IN THE TERRITORY OF BOSONA,KATERA AND DESNIK"
This makes it clear that Bosnia was considered a seperate territory. page 10
John V.A Fine: When ethnicity did not matter in the Balkans p.24-25  
 Large parts of what was to become Yugoslavia remained outside the rule of these two dominant tribes,presumably simply under units of the original Slaveni.These areas included Bosnia and Duklja(Montenegro).   LINK
THE BOSNIAN CHARTERS AND CERTAIN MISCONCEPTIONS ABOUT THEM 
Stephen Kotromanić (died 1353), sometimes referred to as Stephen II, was a Ban (ruler) of Bosnia.
Stephen's father, Kotroman, was the ruler of a territory in northern Bosnia. Stephen succeeded his father as ruler of the territory.
Stephen entered into a power struggle with the Šubić family, who appeared to have ruled the Banate of Bosnia for the first two decades of the 14th century. By 1322, Stephen had become Ban. He expanded his territory into parts of Dalmatia, including the coast between Split and Ragusa (modern Dubrovnik) and most of Hum (Herzegovina), uniting most of Bosnia and Herzegovina into a single political entity for the first time.
Stephen appears to have been a member of Bosnian Church, but also is thought to have been a Serbian Orthodox and by some even a Roman Catholic.
In 1284 he got married to Elisabeth Nemanjić, the daughter of Stefan Dragutin, king of Serbia.
Stephen was buried in the Franciscan Monastery of Visoko. Upon his death his nephew, Tvrtko Kotromanic, became Ban, and later King, of Bosnia.
Stephen's documents
Excerpt of charter of Ban Stefan II to Dubrovnik from 1333:
да имамо и дрьжимо до конца свиета непомачно. и за то
ставлю я (господинь) бань Стефань свою златѹ печать, да
ѥ веровано, сваки да знаѥеть и види истинѹ. а томѹи сѹ .д̄.
повелле..а.. двие латинсци а дви срьпсцие, а све сѹ печа-
тене златиеми печати: двие ста повелле ѹ господина бана
Стефана а двие повелле ѹ Дѹбровници. а то ѥ писано подь
to have and hold to the end of the world moveless. And for that
have put I (lord) ban Stefan my golden seal, to
be believed, everyone to know and see the truth. And to that are IV
charters..a.. two Latin and two Serbian, and all are sea-
led with golden seals: two are charters in lord ban
Stefan and two charters in Dubrovnik. And that is written under
Of 60 words in the excerpt:
29 (48.3%) are completely the same in contemporary Serbian — or, for that matter Croatian or Bosnian
15 (25%) differ only in slightly changed sound of a letter (usually through iotation, or loss or it, or by transfer of "ou" to "u")
8 (13.3%) differ in one phoneme
8 (13.3%) differ more but are fully recognisable.
MI
1333.GIF
Regarding the quoted document, one must observe:
the document is one among a few hundreds of charters of Bosnian rulers. In a few of them Serbian name is mentioned for the script, and particularly so for the charters issued by Tvrtko Kotromanić who employed scriveners from conquered areas of Serbia-hence the name, and peculiarities of these few charters that set them aside from the majority of the other texts (legal documents, sacral texts of Bosnian Church and stone inscriptions). In other texts the name of the language is almost never mentioned, except a few documents that call the language in Bosnia "Croatian" (the letter of Stjepan Kotromanić to the pope in 1347.), and the majority of legal texts refer to the language as "Slavic" or "Dalmatian" (in rare occasions when this reference occurs at all)
it is ahistorical to try to create a picture of ethnic composition in medieval Bosnian polity by selectively referencing modern national or ethnic name that pops up now and then in various documents or historical works that describe periods in Bosnian history. One can tally ethnic traits of medieval Bosnian rulers and find either Croat or Serb characteristics in the list. However, such simplistic approach is dated and discarded: there is no sign that population of pre-Ottoman Bosnia and Herzegovina, whichever social stratum, had developed Croatian or Serbian ethnic consciousness even in a medieval sense of the word.
References
Franz Miklosich, Monumenta Serbica, Vienna 1858, p. 105-109; obtained from slike/1333.GIF at [1] (http://members.tripod.com/cafehome/serbdom-eng.htm)
Original text can be found on the link bellow.
http://www.indopedia.org/Stephen_Kotromanic.html